As I mentioned on Monday, I tried out a couple of DVDs to get myself out of a weightlifting slump. First, I reviewed Tracy Anderson Mat which, in a word, sucked.
Pretty much anything would have been better than that "workout" so I'm going to try not to let the fact that I hated that DVD to influence and overly positive review of the next DVD I tried. Jackie Warner came highly recommended by some bloggers like Toronto Girl West and The Healthy Apron so I gave this DVD a try:
One-on-One Training with Jackie Warner
Thumbs WAY Up.
The video comes with three 20 minute workouts: Upper Body, Lower Body, and Core. You have to option to do one, two, or all three of the workouts and you can add to your viewing line-up in whatever order you want. I like that kind of flexibility.
Each 20 minute workout includes a short warm-up and cool-down (about 2 minutes each). The workout itself is composed of 3 different exercises performed for 1 minute each followed by 1 minute of cardio. This is structure is repeated three more times but all the exercises are different. So basically you're doing 12 different exercises in each workout and 4 minutes of cardio.
It sounds pretty easy. But, if you know me, I think everything sounds easy. Chin-ups? Easy. 100 pushups? Easy. Hiking Mt Everest? Easy.
You need to have a couple of dumbbells for this workout, especially for the upper body portion. I'm a gym junkie so I don't have any hand weights at home. But, I'm relatively resourceful, so I used two 4L jugs full of water that weighed about 9lbs each. I wish I had something a little bit heavier though.
I know JW has her own TV show, but I've never seen it before so I really didn't know what to expect from her training style. I was pleasantly surprised. She wasn't over-the-top and in your face like some trainers or annoyingly perky like others. She's more like a buddy, with really good tips (and really great abs). I kinda want to be her friend. For reals.
Jackie uses 4 of her trainers to demonstrate the exercises. She explains in detail how your body should look and feel so there's really no question about what the right form is. She also explains how to modify the exercises so they are either easier or more difficult. I was really impressed by her commentary.
The music in the workout is a disappointment though. It's slightly annoying and I'm guessing it was an afterthought. Jackie seems so cool, so bad-ass. I guess I was hoping for something that reflected her personality a bit more– preferably something upbeat from an unsigned indie punk band.
As for the exercises…
The upper body portion wasn't too difficult, but I found myself panting and sweating after the leg workout. A1! Just what I was looking for.
I thought 20 minutes of core exercises to be a bit excessive though. That might be because I rarely do ab or oblique work on my own. Naturally, this portion was a serious struggle for me and I was getting annoyed by how easy she made everything look. I had to swallow my pride and do the easy modifications. A LOT. I'm hoping that if I keep doing this core workout I'll end up with Jackie's killer 6 pack. . .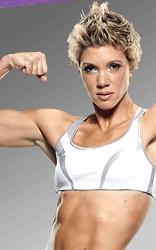 Is it weird that I can't stop staring at her?
. . but given my propensity for cookies (mmm…oreos) my mid-section will likely stay doughy. Let's just call that "feminine curves", shall we?
For me, exercise is practically dogmatic (true story: everyone in my family goes to the gym on Sunday mornings while all the good Christians are at church). So if Jackie Warner were a religion, I'd be a convert.
Related Posts:
previous post: OREO
|
next post: Food Blog Friday: Chick-picata
5 Comments
Subscribe by E-mail
Topics
Goals:
Lose 6cm from my waistline

waist/belly button/weight

Start (Aug 15): 83cm/ 91cm/ 166.8lb
Aug 31: 82cm /89cm/ 166.8lb
Sep 10: 83cm/ 89cm/ 166.2lb
Sep 20: 83cm/ 89cm/ 166.2lb
Oct 1: 83cm/ 88cm/ 165.6lb
Oct 10: 82cm/ 89cm/ 166.6lb
Oct 31: 81cm/ 88cm/ 166.6lb
Nov 15: 81cm/ 87cm/ 169.4lb
Dec 1: 82cm/ 88cm/ 170.2lb
Jan1: 82cm/ 88cm/ 169.4lb
Feb 1: 84cm/89cm/171.8lb
Mar 15: 83cm/ 88cm/ 170.0lb
Apr 15: 82cm/ 88cm/ 170.0lb
Looking Back