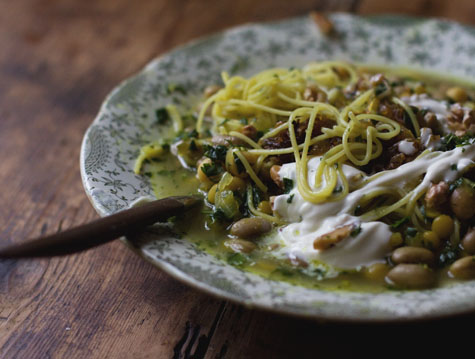 (source)
This week's Food Blog Friday recipe comes from the gorgeous 101 Cookbooks. It is a spiced bean and noodle soup that blogger Heidi Swanson claims to be the "perfect recipe to usher in the new year with". New Year Noodle Soup.
The exotic East Indian ingredients like chile pepper, turmeric, and cumin are what caught my eye and enticed me to make this recipe (plus it's a soup and I fucking love soup. Yeah, I love it that much.)
The recipe calls for borlotti beans which, I admit, I had never even heard of before. I substituted them with canned romano beans. Funnily enough, after a quick google of "borlotti beans" at the time of this writing I learned that they actually are romano beans, so that was a stroke of good luck.
Another substitution that I made was thin rice noodles instead of egg noodles because they are what I had on hand.
This recipe turned out to be fantastic. The heat from the spices and hot pepper was balanced by the acidity of the lime and the cool fresh herbs. Reading the recipe, I found the inclusion of dill to be rather curious, but it actually worked really well and was perhaps my favourite addition.
The soup is to be topped with creme fraiche, caramelized onions, and walnuts but I opted out of the the topping out to keep the recipe vegan. I thought the recipe worked even without the inclusion of the topping although the next time that I make this one I think that I would use the topping just to see the difference. I imagine that it would further balance the heat and also bring a sweetness that the New Year Noodle Soup is otherwise lacking.
All in all I loved this recipe and would definitely make it again, no substitutions. I give it
3 Spoons!
Find the recipe for 101 Cookbooks New Year Noodle Soup here.
---
Food Blog Friday recipes are ranked on the scale of 0-3 spoons
0 spoons – That was fucking horrendous
1 spoon  –  I doubt I'll be making that again
2 spoons – I'll probably make that again with some tweaks
3 spoons – That was perfect.
Related Posts:
previous post: winning loser
|
next post: flour girl: Stollen
17 Comments
Subscribe by E-mail
Topics
Goals:
Lose 6cm from my waistline

waist/belly button/weight

Start (Aug 15): 83cm/ 91cm/ 166.8lb
Aug 31: 82cm /89cm/ 166.8lb
Sep 10: 83cm/ 89cm/ 166.2lb
Sep 20: 83cm/ 89cm/ 166.2lb
Oct 1: 83cm/ 88cm/ 165.6lb
Oct 10: 82cm/ 89cm/ 166.6lb
Oct 31: 81cm/ 88cm/ 166.6lb
Nov 15: 81cm/ 87cm/ 169.4lb
Dec 1: 82cm/ 88cm/ 170.2lb
Jan1: 82cm/ 88cm/ 169.4lb
Feb 1: 84cm/89cm/171.8lb
Mar 15: 83cm/ 88cm/ 170.0lb
Apr 15: 82cm/ 88cm/ 170.0lb
Looking Back